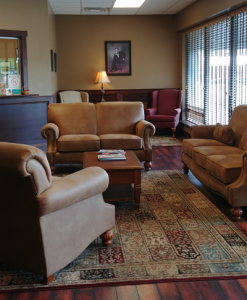 Butler & Marshall Attorneys at Law in Washington Court House, OH, offers legal services to clients throughout the Tri-County area, including:
Washington Court House
Hillsboro
Mount Sterling
Lebanon
Dayton
Xenia
Wilmington
Greenfield
Chillicothe
Jeffersonville
Circleville
D. Brent Marshall joined the law office in 1997. After the passing of Jim Butler, he continued practicing law in the Fayette County office. We have years of experience with providing experienced and compassionate legal representation to a countless number of clients. We've been family-owned and operated, licensed, bonded and fully insured since 1984. We also have the following certifications:
Fayette County Chamber of Commerce
Ohio State Bar Association
Fayette County Bar Association
When you come to us, we will make sure that you get the legal representation you need. We can represent you in many different areas, including family law, criminal law, estate planning and bankruptcy law. We'll answer any questions you have so you can stay fully informed throughout the process. We can also gather and manage any materials you might need, including any necessary paperwork, documentation, investigations, witnesses or inspections. Our attorneys can also provide emotional support in stressful cases like divorce proceedings and child custody cases. At Butler & Marshall, our job isn't done until you're satisfied with the results. To schedule a consultation, call 740-335-4381, stop by our office or email us at jenny@butlermarshall.com.